New design handle and new generation dual-flush are here
While the phrase "never stop improving" sounds very cliche, the truth is we never stop improving. Convenient Height Co. has been making the World's first original Tall Toilet better every year since the first production batch in 2016. With small changes in the bowl structure, with a new heavy-duty seat – we make small adjustments based on our research and the feedback from You, our customer.
But to me, the most amazing improvement this year is the launch of the new generation dual-flush system with the most visible accessory – the new solid metal handle.
I have worked on the shape of this flush lever handle for months (and thought about it probably for over a year). It is now finally here. It is perfect! And I am very proud to introduce it to you.
The technical functionality of the handle is the same as our previous dual-flush handles, however the feeling is very different. Let me explain how.
Style, Look and Ergonomic Design
First of all, the size of the handle. As of the year 2020 there is no other Dual-Flush lever of such ergonomic design and the most importantly of this size. There are good examples for single flush system handle (flapper and chain), but there is absolutely nothing like this produced for dual-flush systems. The Convenient Height brand new flush lever is the only one of its kind on the Planet. The 2 inch long lever with an 1.5 inch diameter motion circle equals to 3.5 inch total length – that's industry's longest and largest, but designed to Not look bulky.
Principle of Least Effort
Secondly, let's take a look what's inside of the tank. And we start with our actuator. The new generation actuator was made to create the Cadillac-like ride for the flush action. Once handle is pressed by you, it transforms your hand motion energy onto the actuator which then initiates the flush valve to perform.
And here the technology was truly improved. Because the handle itself is so much longer it naturally requires a lot less effort to press it (or lift it – since it is dual action flush system). And here is where the principal of least effort begins: onward to the actuator which takes your hand motion energy and sends it to the flush valve with the extreme efficiency. Additionally, the actuator is made to last. It connects to the handle via highly durable connection and stays rigid. Very well engineered components that I am very proud of.
Handle in Action
When system in still position handle stays perfectly horizontal
Press the handle down for a full flush and it will dispense 1.28 gallons per flush
Left handle up for the economy flush of Eco water dispensing of 0.8 gallons per flush
Handle unobstructed by the toilet seat. Handle is easy to access with seat up.
And here is the summary of above.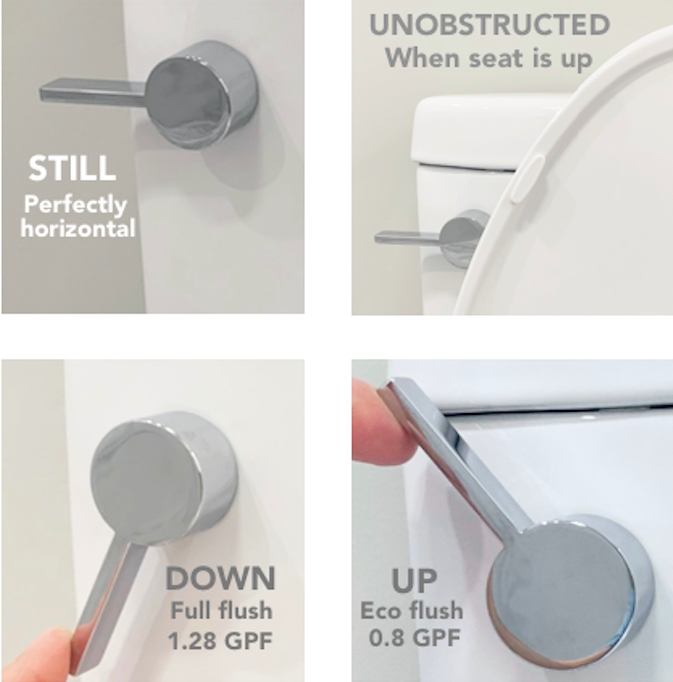 We will continue listening to YOUR feedback. In large, this improvement was directly inspired by the reviews of our product. As our customers were discussing the older flush systems and levers we produced, I felt we can do better. And I will humbly say, we did.
If you are only thinking about getting your first Convenient Height brand tall toilet, you came to us when we are at our best. If you already have the Convenient Height tall toilet and would like to upgraded it, please contact us and we will let you know how to turn your 2016, 2017, 2018, 2019, and most of 2020 Model S into the New Generation.
ORDER OUR NEW GENERATION DUAL FLUSH SYSTEM
Continue Reading
Subscribe to Updates